Chris Wild
is a young aged female detective who seek out her vision throughout dangers what will happens. She seems to have a powerful vision that may happen to both her past and future. However, her parents seperated her when she was 10 years old. She is a main hero in the series.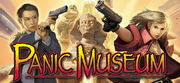 Zodiac: Horse
She is voiced by Eri Miyajima in the Japanese versions of both games. In English, she is voiced by RuthAnn Morizuma for the first, and Donna Burke for the second.
If you're talking mysteries, there's a lot more of them here at the museum.
Don't talk, shoot!
Looks like they're not gonna make it easy for us to leave...