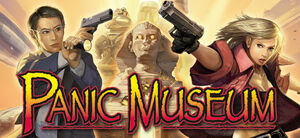 Welcome to the Wiki
[
]
Welcome to the wiki. We're a collaborative community website about your topic that anyone, including you, can edit. Click the edit button at the top of any page to get started!
Synopsis
[
]
History is happening in the present, it is mixing between the police and fantasy genres. Two detectives called Chris Wild and Akira Nakata, investigating the disappearances of people starting from a museum. There you will find that the place comes alive because of six magical sphres linked to a tablet, created by an alien who wants to create his own kingdom by alterating reality itself. After the sphers disbanded into different places, Chris and Akira decide to embark to a great journey that will be undertaken, to find out the person who created the magical sources, responsible for the disappearances.
Latest activity
[
]
Characters
[
]
Chris Wylde - a young female detective who seek out her vision throughout dangers what will happens. She seems to have a powerful vision that may happen to her past and future.
Akira Nakata - a young male Japanese-American detective, his occupation was a security guard as his carrier. He has a great phobia to anything scary.